&nbsp

Weather in Cork, Ireland: Conducive to R&D
Pleasantly Refreshing with a Bit of Rain
The fresh, Irish breezes are something to remember if you've only had a chance to visit Cork, Ireland. The refreshing landscapes full of lush greenery is something which connects you to nature on an extraordinary level. Read on to learn how with the help of Ireland's weather, it's causing research and development activities to advance at a much more rapid rate.
R&D is Primarily Performed Indoors
Living in a constantly sunny place is fine and all, but when you're involved in a position focused on research and development, you may begin to feel guilty if you're not taking advantage of the outdoors as much as possible. When you choose to live in Cork, Ireland for your research and development position, you'll find the weather is very much conducive to the research and development process overall. Utilizing the rainy days to your advantage and enjoying the sunny days when you can will offer a productive working environment to better assist you in accomplishing your goals.
Cork, Ireland's Weather Averages
Below is a chart displaying the averages throughout the year and you'll find the averages to be about fifty percent rain. As mentioned before, this dynamic of rain and sun will prove to be extremely productive for your work schedule.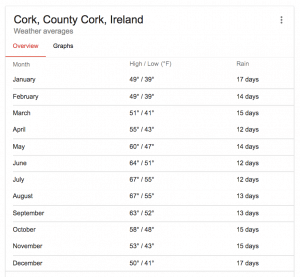 Choosing Swanson Reed for Your Cork R&D Tax Credit Advising
Whether it be rain or shine, Swanson Reed will be here to help you obtain the most R&D tax credits possible for your research and development operation. Feel free to contact us to learn more about the processes involved and our strategies, implementations, and associated fees. We'll be sure respond to your inquiry as soon as possible and we look forward to being of service for your R&D tax credit needs!